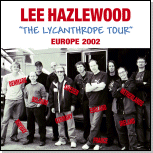 Lee Hazlewood
Jarvis Cocker & Friends
Royal Festival Hall, London
September 22, 2002
Lee Hazlewood's first visit to London since 1999 drew an eclectic audience to the South Bank. As well as attracting people old enough to recall the day of his partnership with Nancy Sinatra (who, by coincidence, was also on tour in Europe at the same time) he seems to have become the darling of the hip young set.
This was presumably the reason behind the selection of Jarvis Cocker & Friends as the support act. Cocker (lead singer of pop group Pulp) and colleagues played some rather overwhelming experimental music before thankfully ending their set with an excellent spaghetti western-styled cover of Hazlewood's own "A Cheat".
Given the legendary status of the man, it was a little surprising to see a small guy dressed in a black baseball cap, dark glasses and cowboy boots walk onto the stage… until he opened his mouth. As James Earl Jones is to acting, Lee Hazlewood is to singing. The contents of the phone directory would be enthralling when subjected to this man's larynx: an irresistibly deep, dark, tready Texan Voice.
The RFH is an acoustically excellent but rather cold and cavernous venue, so Hazlewood's achievement in creating an intimate atmosphere was remarkable and largely down to that gargantuan voice and his talent as a between-song raconteur. Sure, he probably says the same things in every city, but it still felt like he was saying them to you personally in the booth of some small and smoky bar.
Having promised us a selection of "old, obscure and typical Lee Hazlewood songs – i.e. dirty," he fulfilled this admirably, ranging through "I Move Around", "My Autumn's Done Come", "So Long Babe", "After Six", a jazzy "Rosacoke Street", "Pray Them Bars Away", and an astonishing reworking of "Whole Lotta Shakin' Goin' On" as a seduction anthem which inspired a whole lot of appreciative heckling from certain female audience members!
The high point of the evening was "Soul's Island" an epic production that stems from an obscure (well, to non-Scandinavians anyway) Swedish documentary film of 1975. Somebody reissue this song, please! Unusually, the few new songs included in the show more than stood comparison to the old, particularly the excellent "Dirtnap Stories".
If there was one criticism, it's that Hazlewood's five man backing band was a synthesizer heavy, with some numbers crying out for a fuller orchestral arrangement – or at least a decent facsimile – rather than the artificial sounding one that was provided. Given the outstanding pedigree of the musicians involved (most drawn from Critically acclaimed bands, 'The High Llamas and SteroLab) this over-emphasis on the electronic approach seemed a missed opportunity.
As he closed with the inevitable "These Boots Are Made For Walking", the crowd made futile attempts to bring the star on for a third encore, but were thwarted by the venue's curfew time. He had introduced "Boots" with a rueful "some people think this is the only song I've ever written – but we know better." Oh, we do, Lee, we do. And for the 10:30PM deadline, we would have let you carry on proving it.
Jane Farrell
---
"TOUR 2002 PICS"
"Bootleg Dreams & Counterfeit Demos"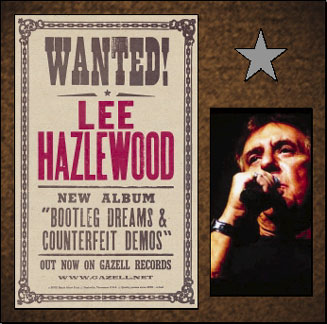 "For Every Solution There Is A Problem" Lee Hazlewood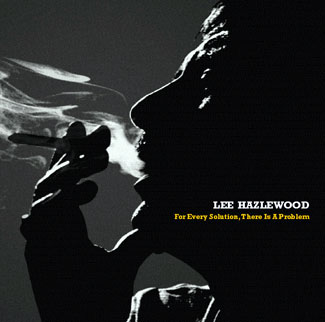 Review
Telegraph Art & Books
Saturday November 23, 2002
Lee Hazlewood "For Every Solution, There Is A Problem"
Urban cowpoke ballads from the past 25 years of this influential, barrel-voiced Nancy Sinatra collaborator. At time it's hard to know what's bigger – his heart, his moustache, or his hangover.
Listen to: "A Taste of You"
"Total Lee - The Songs Of Lee Hazlewood" Tribute CD
These young artists have been kind enough to contribute:
1.Lambchop - "I'm Glad I Never"
2.Madrugada feat. Neil MCNasty - "Come On Home To Me"
3.The Webb Brothers - "Some Velvet Morning"
4.Calexico feat. Valerie Leulliot - "Sundown, Sundown"
5.Johnny Dowd - "Sleep In The Grass"
6.St Etienne - "Got It Together Again"
7.St Thomas - "The Railroad"
8.Jarvis Cocker & Richard Hawley - "A Cheat"
9.Erlend Oye - "No Train To Stockholm"
10.The Amazing Pilots - "Soul's Island"
11.Kathryn Williams - "Easy & Me"
12.Tindersticks - "My Autumns Done Come"
13.Stephen Jones & Luke Scott - "We All Make The Little Flowers Grow"
14.Calvin Johnson & Mark Pickerel - "Sand"
15.Evan Dando & Sabrina Brooke - "Summer Wine"
16.Kid Loco Feat. Tim Keegan - "If It's Monday Morning"
FOR SALE NOW!!
Hustler Magazine Review
November 2003 issue
Page 74
Lee Hazlewood's "The Pope's Daughter: His fantasy Life With Nancy and Other Sinatra's"
The writer of Nancy Sinatra's megahit: These Boots are Made for Walking" has finally stepped into the world of literature. Hazlewood's book features chapters such as 'Never Trust a Sacrificial Lamb Riding a Unicycle' and an oddly Biblical patois (cometh, screamedeth and felleth); then again, this is the man who coined the words truthin' and samin' in a multiplatinum-selling song.
The tome opens with a reworking of the Book of Genesis and descends into a half-fantasy tale of his experiences with the Sinatra clan.
"A publisher said, 'It needs to be longer,'" recalls the 74-year-old singer/songwriter/author. "So I went back and started at the very beginning, then people really thought I was crazy. Needless to say, that publisher did not like it." But fans of outre' literature will.
Available from www.Xlibris.com and wherever weird books are sold.
---